Monet was made for a wonderful women that I met at a PA Guild Show last year. We were both emerging artist, and were in neighboring booths. I was lucky enough to leave with some of her awesome
Jewlery
. Last week she saw one of the scarves that I made on
facebook
, and asked if I could make her one in shades of blue.
I had been working on Monet for less than an hour , when she whispered her name . This is the first scarf that has told me her name before she was complete. Monet was bursting with beauty and confidence, and brought a wonderful smile to my face.
The Meaning Behind the color Blue:
Blue is the overwhelming "favorite color." Blue is seen as trustworthy, dependable and committed. The color of sky and the ocean, blue is perceived as a constant in our lives.
As the collective color of the spirit, it invokes rest and can cause the body to produce chemicals that are calming; however not all blues are serene and sedate
The color blue also helps to spur creative thought, and people that work in blue rooms are often more productive.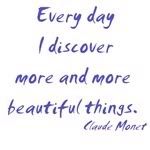 I wanted to share some of Jessica Keemer's work with you. As I was browsing through her website I came across this wonderful piece called Water Lilies. Love when everything comes together. I didn't see this piece until after her scarf was complete and named Monet.
Pin It